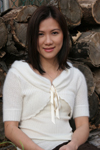 Artist's Profile

Lan has the love of art since she was very young. Most of her spare time is dedicated to painting, travelling and other forms of art work.

Lan comes from a family with a history of collecting and dealing of paintings and sculptures. Since the time of her great grandparents, the family has been known to possess some of the most important artworks by many contemporary and master artists of Vietnam.

Born in Hanoi, having lived in Saigon for most of her youth, and later resided in Canada since the age of 18, Lan has been influenced by elements of both Western and Eastern cultures. This important fact is illustrated in her artworks.

Lan's world is captured by objects or events surrounding her, whether via daily life or from different parts of the world that she has been to. Her favourite subject is undoubtedly the human form and expression. People have complemented her portraits for its exotic flare, almost like she is painting a spirit or a potential and wrapping inside a portrait of a person.

Lan hopes to add a tiny touch of beauty to the world with each painting she creates. She strongly believes anything can be achieved through hard work and passion in what one does.